The Signalling Centre

The Panel Box – 1960
The Panel Box – 1960 area is, naturally, focussed around the preserved Swindon Panel of 1968 which has been restored to working order and is connected to a specially built simulator allowing realtime control of 'trains'. Other exhibits relating to the Swindon Panel area and to the Panel Box era are on display inside and outside the building.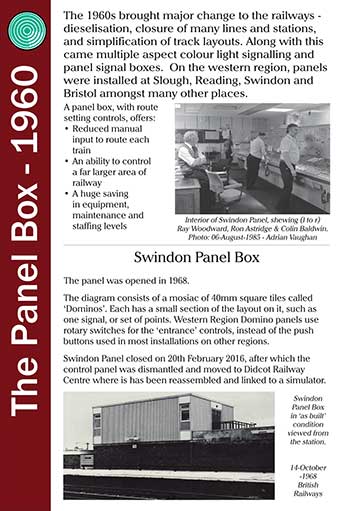 The 1960s brought major change to the railways - dieselisation, closure of many lines and stations, and simplification of track layouts. Along with this came multiple aspect colour light signalling and panel signal boxes. On the western region, panels were installed at Slough, Reading, Swindon and Bristol amongst many other places.
A panel box, with route setting controls, offers:
Reduced manual input to route each train
An ability to control a far larger area of railway
A huge saving in equipment, maintenance and staffing levels
---
Swindon Panel Box
The panel was opened in 1968.
The diagram consists of a mosaic of 40mm square tiles called 'Dominos'. Each has a small section of the layout on it, such as one signal, or set of points. Western Region Domino panels use rotary switches for the 'entrance' controls, instead of the push buttons used in most installations on other regions.
Swindon Panel closed on 20th February 2016, after which the control panel was dismantled and moved to Didcot Railway Centre where is has been reassembled and linked to a simulator.
This is not the place to provide detailed information about the activities, achievements and aspirations of the Swindon Panel Society (SPS), which are best followed on the SPS website.
To return to The Signalling Centre page - Simply close this window