The Signalling Centre

The Powerbox – 1935
The Powerbox – 1935 area is centred on one of the three original Signalbox Diagrams from Bristol Temple Meads East Box of 1935 and explores the developments associated with the replacement of mechanically operated points and signals by electrical (and occasionally pneumatic) control.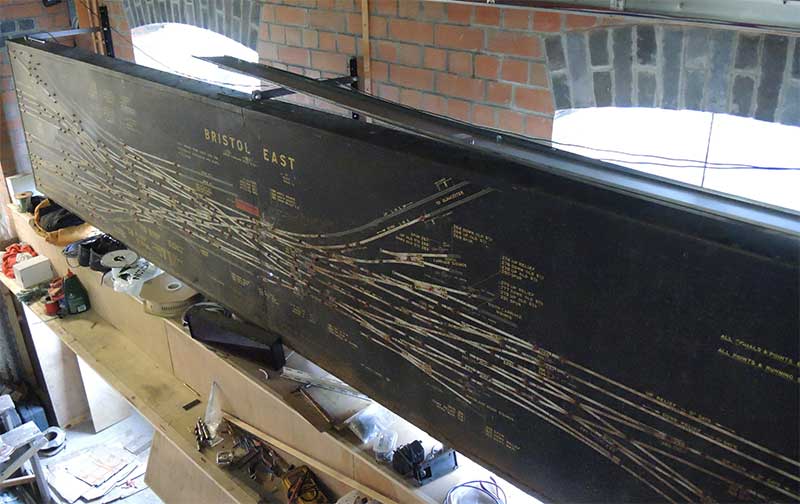 Bristol East Diagram exhibit under construction - 02-Apr-2018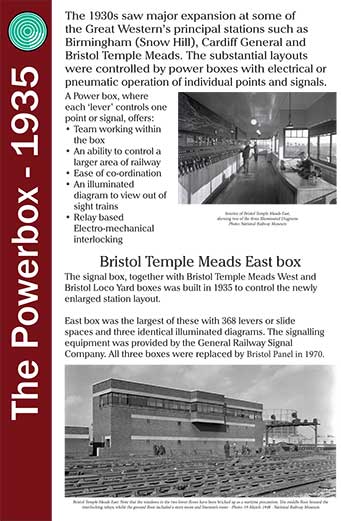 The 1930s saw major expansion at some of the Great Western's principal stations such as Birmingham (Snow Hill), Cardiff General and Bristol Temple Meads. The substantial layouts were controlled by power boxes with electrical or pneumatic operation of individual points and signals.
A Power box, where each 'lever' controls one point or signal, offers:
Team working within the box
An ability to control a larger area of railway
Ease of co-ordination
An illuminated diagram to view out of sight trains
Relay based Electro-mechanical interlocking
---
Bristol Temple Meads East box
The signal box, together with Bristol Temple Meads West and Bristol Loco Yard boxes was built in 1935 to control the newly enlarged station layout.
East box was the largest of these with 368 levers or slide spaces and three identical illuminated diagrams. The signalling equipment was provided by the General Railway Signal Company. All three boxes were replaced by Bristol Panel in 1970.
The primary focus of the display is one of the illuminated diagrams supplied by the General Railway Signalling Company (GRS) for Bristol East Box as part of the GWR's expansion of Temple Meads station. The 260 plus indicator lamps have been replaced with LEDs and a computer now runs a sequence based on the 1935 working timetable. Visitors are able to use a small push button panel to override the timetable and send the trains along a few selected routes.
The other large exhibit is a GRS searchlight signal, of similar design to those used at Temple Meads, though actually from Old Oak Common – visitors can select the aspect displayed using a brass signalbox plunger.
Other exhibits mainly relate to the GWR 1935 Bristol resignalling, although references are also made to other GWR power signalling installations, such as those at Newport and Cardiff.
Principal Exhibits
Description
Original Location (where known)

Illuminated Diagram from Bristol Temple Meads East Box

One of three near-identical illuminated diagrams used by signalmen to monitor the positions of trains controlled from Bristol East Box (all of which have survived).

The diagram is of the General Railway Signalling Company all-steel type with the diagram hand painted on to a black matt finished steel front plate. Each track circuit is illuminated, when occupied, with two lamps. The diagram displays a speeded-up emulation of the 1935 timetable - the year in which the signalbox was brought in to operation.

GWR Bristol Temple Meads East Box of 1935

Three aspect Westinghouse/GRS Searchlight Signal Type SA

We believe that this type of three aspect signal was installed in the London area from the 1950s, but the lamp casing and interior is identical to those two aspect fittings used by the GWR in the 1931 Paddington area resignalling and in the 1935 Bristol Temple Meads resignalling (other than in having three aspects instead of two of course!).

We don't believe that the GWR ever used three aspect searchlight signals.

Signal Head and Signalpost base recovered from the London Area. It was reputedly found in the undergrowth on the bank of the flyover between Paddington and Old Oak Common.

The steel post is part of one recovered from Dunster.

A collection of Lever Lead Plates

135, 139, 172, 197, 262, 266-275

Bristol Temple Meads East Box of 1935

Lever Lead Panel

Incorporating plates for - 177-192

Bristol Temple Meads East Box of 1935

Lever Lead Plates

No. 134 from Bristol East Box and Nos. 179 and 320 from Bristol West Box.

Bristol Temple Meads East and West Boxes of 1935

Indicator Light Panel

A maximum of two indicator lights were provided above each lever the upper being a 'correspondence' light which is only lit when the levers are in correspondence with their respective functions. Beneath this is a 'lock free' light indicating when a lever is free to be pulled.

Bristol Temple Meads East Box of 1935

Block Indicator (Up Line)

The General Railway Signalling Company designed a set of instruments especially for the Bristol boxes to fit flush into the cabinet of the locking frame.

Bristol Temple Meads East Box of 1935

Block Instrument - Permissive

The General Railway Signalling Company designed a set of instruments especially for the Bristol boxes to fit flush into the cabinet of the locking frame.

Bristol Temple Meads East Box of 1935

Section of the mechanical locking tray from Newport (Monmouthshire) East Box of 1927

The miniature-lever based frames with electric operation of ground equipment installed at Newport pre-date the Bristol installation of 1935 but featured route levers where, ideally, pulling one lever set up the entire route, and all that remained was to pull the signal lever.

The frames, built by Siemens, used the Insell-Ferrera route-working principle, Mr LM Ferrera being the GWR's assistant signal engineer. This form of route setting was unique in Britain, but gave reliable service for almost forty years.

Poster providing instructions for the Standby Generator for the Bristol Powerboxes

The GWR's 1935 Bristol installation had two separate supplies from the mains, either of which was capable of running the entire system. It also had a 110 horse power standby diesel generator, situated next to West Box.

St. Andrews Cross Marker Board

Slightly out of period, but certainly from Bristol Temple Meads, ten of these permanently illuminated platform demarcation boards were installed at Bristol Temple Meads in 1988, replacing black steel signs bearing a yellow cross.

They served to split the through platforms into two, with the driver being advised of the platform number by the approach signals and thus knowing whether to stop at the board or proceed to the end of the platform.

They were replaced by more conventional back to back signals with position lights when the layout was re-signalled in 2018.

Bristol Temple Meads
To return to The Signalling Centre page - Simply close this window