Other Buildings and Structures
Introduction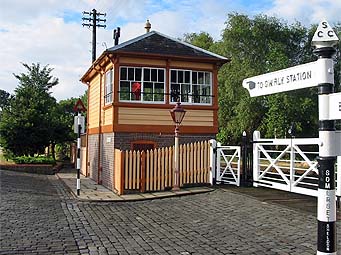 A scene 'enhanced by many details'
R J Heron 1-Aug-2006
In addition to preserving and re-creating signals, signalboxes and the associated operational hardware, the S&T project has sought to try and assist with the overall creation of a GWR branch line scene at Didcot. This vision was started perhaps by the Museum's 'Outdoor Gang' with their creation of Didcot Halt using buildings recovered from the Lambourn Branch, and was further enhanced by Taunton Group's construction of the Broad Gauge running line, complete with period platelayers hut, wooden gates, signs, grindstone and other appropriate features.
To this the S&T department have added many touches of their own. This includes such major structures as the corrugated-iron huts, a level crossing, a water tower, and loading gauge, for which details are given below. However it should not be forgotten that the overall scene is enhanced by many details, some of them resulting from major projects such as 'spear' fencing, post and wire fencing and stone setts, but also the many smaller items including a variety of signs, paving, landscaping, and even some suitable signalman's flowerbeds.
Where the original location of equipment is known details are given below although particularly in the case of smaller objects much has been acquired third or fourth hand or bought as railwayana in which case the original location is often lost.
Corrugated Iron Huts
S&T Department Workshop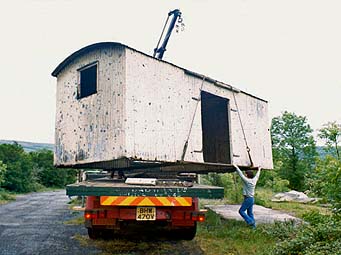 The former Winscombe Parcels Office
A R Hook 22-May-1982
This building is an example of the once common GWR Standard Galvanized Iron Lock Up Hut. Our 21' x 9' example was originally in use as the Parcels Store at Winscombe Station on the Cheddar Valley Line which ran from Witham to Yatton. Originally it was fitted with central double doors at the front (opening onto the platform) and at the rear (opening into the goods yard). The former pair have been replaced, by the GWS, with a window.
The goods yard closed on 10th June 1963 and the line closed to passengers from 7th September that year. The line closed to all traffic on 1st October 1964 and the main station building was demolished around 1973.
Purchased on 13th April 1983 for £50.00, the Parcels Store was recovered, more or less complete, by the GWS on 22nd May 1982.
(GWS NN, No. 135; BGN, July 1982)
Four photographs of Winscombe Parcels Store can be found in Phillips. 2001. Pages 168-170
A drawing of GWR Standard Galvanized Iron Lock Up Huts can be found in Vaughan. 1977. p.422
Radstock Signal Box Lamp Hut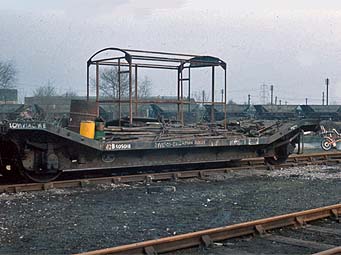 The framework in Didcot yard
A R Hook 4-Feb-1979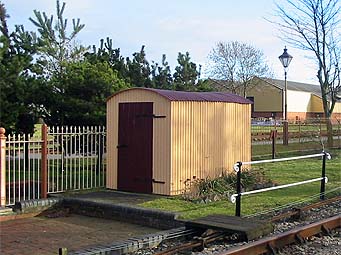 The Restored Lamp Hut
R J Heron 28-Jan-2007
A standard GWR design 9' x 6' hut manufactured by Samuel Taylor and Co.
The frame of this hut was recovered from Frome Station Goods Yard on 21st January 1979. It is seen here loaded on a rail wagon in the Provender Yard at Didcot awaiting shunting onto site.
The original angle iron frame was subsequently re-clad with new corrugated iron and the hut restored by 'Fred Gray's Gang' with an official 'handing over to S&T' ceremony on November 25th 1979.
A drawing and photographs of GWR Standard Lamp Huts similar to this can be found in Vaughan. 1977. p.421.
(GWS NN, Nos. 107, 111; BGN, February, December 1979)
Frome Signal Cabin Lamp Hut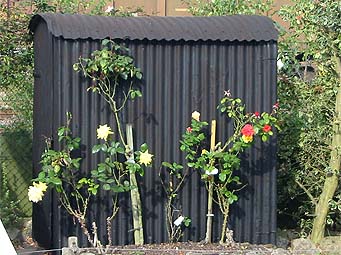 Restored at Didcot
R J Heron 28-Sep-2002
This is a small 4' x 6' hut which originally served as the lamp hut for Bruton Signalbox.
A photograph of Bruton Box showing part of the lamp hut can be found in Phillips. 2001. Page 139.
(GWS NN, Nos. 174, 175)
S&T Compound Large Store - 'The Bridport Suite'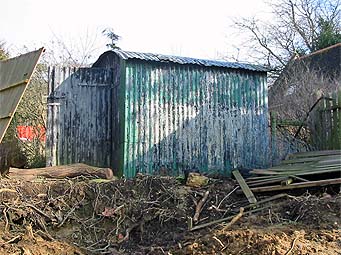 In use as a garden shed in Bridport
R J Heron 21-Feb-2003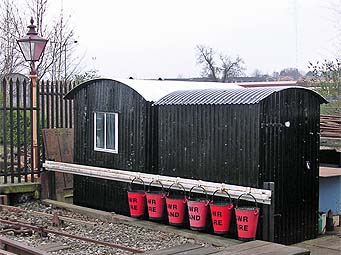 Bridport and Tetbury Huts as restored at Didcot
G C Drew Feb-07
This 6' x8' hut was recovered from a garden on the outskirts of Bridport after its owner failed to sell it on E-bay. Before he acquired it it had been used as a garden shed in Exeter and before that it is alleged to have been in railway use at Burlescombe Station on the Somerset - Devon border.
It was recovered on 21st February 2003, as a kit of parts, and after short periods of storage near Exeter and at Didcot was re-erected and repaired over the winter of 2006/7.
S&T Compound Small Store - 'The Tetbury Rooms'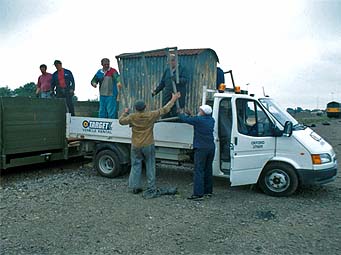 The Lamp Hut in Didcot yard
A R Hook 9-Aug-1996
This typical GWR small 4' x 6' lamp hut was originally in use as Tetbury Station lamp hut, but on closure of the line it was acquired for use as a garden shed at 2, St. Mary's Road, Tetbury. It was donated to the GWS in August 1996. The hut holds the instant-restoration record as the entire job of collection, transportation to site (via road and rail,) installation, repainting and fitting of a new floor was completed within 36 hours. The hut is seen being transferred from road to rail in preparation for the shunt onto site.
Other Structures
Water Tower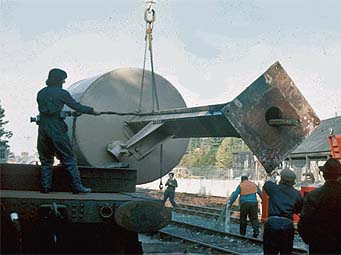 The Water Tower being loaded at Bodmin
A R Hook 5-Oct-1977
In the early days of the Great Western Society, stock and equipment was stored at various locations around the former Great Western system including Bodmin General station. With the gradual closure of these sites and concentration of the Society's collection on Didcot Railway Centre, it was necessary to move not only rolling stock but also, where possible, fixtures and fittings.
The water tank from Bodmin which was moved by the Bristol Group in October 1977 was an early example of such a move. The concrete tethering post for the chain and drain grating are not from Bodmin but were recovered from Hawkeridge Junction, near Westbury, Wilts. in January 1984.
GWS NN, No. 147
An account of the Bodmin tank move is given in an article: 'Bodmin Tank' by Kevin Evans. Great Western Echo — No.62. Summer 1978. pp.6-8
(See also: BGN, July 1977, November 1977)
Level Crossing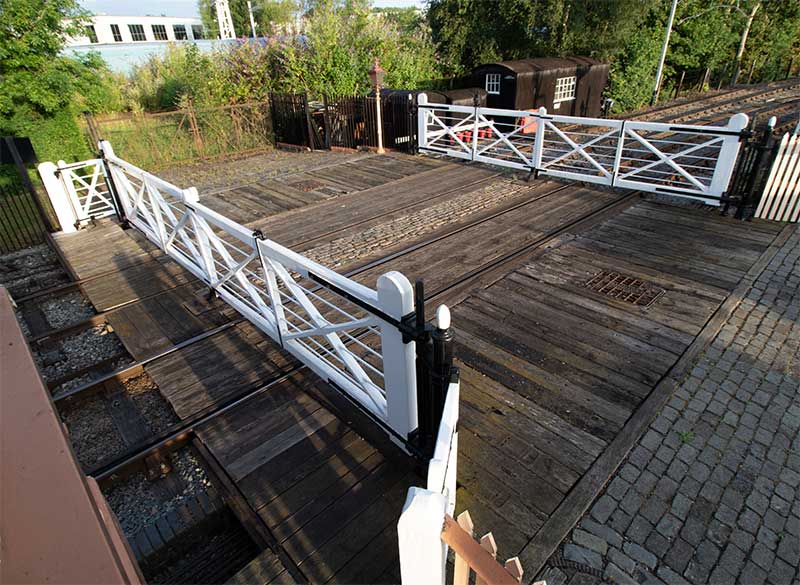 The Level Crossing
S Gilmour - 21-Jul-2019
The Level Crossing replicates the original situation of the signal box at Radstock. Unfortunately it was not possible to acquire the entire crossing from Radstock as some parts were already missing or broken whilst retrieval of others would have required the busy main road to have been dug up.
Therefore the crossing as it now stands at Didcot is an assemblage of material from various places including Radstock, Hungerford and Warmley.
Gates - new timber gates incorporating metalwork from Radstock (recovered 23rd November 1975), and Hungerford (recovered September 24th 1978).
Posts - from Radstock (recovered 23rd November 1975) and Hungerford (recovered September 24th 1978) on new cast bases.
Operating Cranks, Rodding, etc. - mainly from Radstock (recovered 23rd November 1975) and Warmley (recovered June 8th 1981)
Lamp Standards (2) - from Gloucester Docks
Lamp Tops (2) - from Paignton South Level Crossing (recovered December 1982)
Gate Lamps (2) - Ex. Reading Signal Works (purchased February 1985)
A description of the level crossing installation work is given in an article: 'The Level Crossing' by Alan Price. Great Western Echo — No.89. Spring 1985. pp.6-7.
(See also: GWS NN, Nos. 120, 135, 139, 140 - 151; BGN, November 1982 - November 1985 inclusive)
Branch Access Line Gate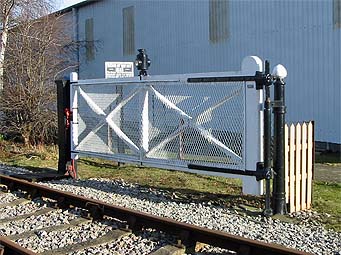 Branch Access Gate
R J Heron 28-Feb-2007
This gate, adjacent to the carriage shed restoration bay, was originally installed in winter 1979/1980 using a gate and hanging post from Radstock (recovered 23rd November 1975), stop-posts made from an old signal post ex- Bristol East Depot, and locks from Pilning Low Level (recovered May 1979)
Subsequently the timberwork of the gate has been replaced with new, and both the original stop-posts have been obtained from Pilning (recovered June 1987) and re-united with the locks.
(GWS NN, Nos. 117, 167, 170, 171, 173, 174; BGN June, October, December 1979)
Loading Gauge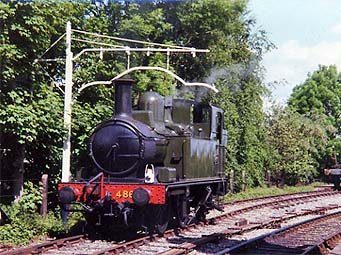 R J Heron May-2000
This loading gauge is from Frome Goods Yard (Tar Depot) - It is of the type with lifting ends which can be lowered to gauge for the narrower clearances available to wagons travelling on the Southern Railway
Purchased on 17th January 1984 for £34.50, and recovered in February 1984, it was re-erected on its new site during the summer of 1985, the boom being fitted on 23rd June.
An official drawing of a loading gauge similar to this can be found in Vaughan. 1977. p.375
(GWS NN, No 147A, 154; BGN, March 1984)
Sand Drag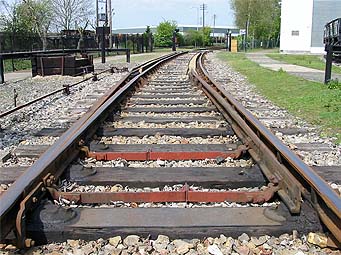 R J Heron 21-Apr-2002
The sand drag was originally placed on Filton Bank, Bristol, where it was used to stop vehicles running away back down the bank. There were originally three sets of sand drags in place, on each of the two climbing tracks on this long bank.
Our example was recovered in Spring 1985 and was installed on the branch access line over the winter of 1986/87, together with its associated pointwork.
As installed at Didcot it is only half its original length, and acts to protect the branch demonstration line from runaway vehicles from the depot.
(GWS NN, Nos. 165-168 inclusive)
Staff Pick-Up and Set-Down Apparatus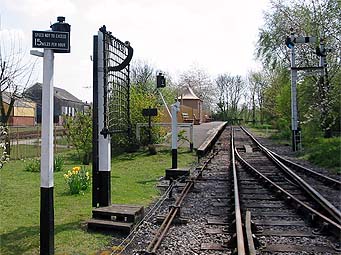 Radstock Apparatus
R J Heron 21-Apr-2002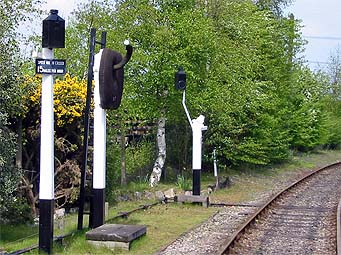 Frome Apparatus
R J Heron 21-Apr-2002
There are, naturally, two sets of staff exchange apparatus, one adjacent to Frome Cabin and one to Radstock Box.
Each set consists of a pick-up post, which holds the end of the Webb-Thompson staff in a sprung clip, and a set-down post, with a cow-horn which is used to receive the staff from the locomotive crew. There is a third post at each location bearing a lamp which illuminates the cow-horn (the lamp for the pick-up post being carried on a bracket).
The two sets of apparatus differ from each other as that at the Frome end has a padded leather backboard for the cow-horn, whilst that at Radstock has the more modern net on tubular frame. Also the style of lamp used at Frome is that of an earlier type. The apparatus at Radstock was installed in 1982 and that at Frome in Spring 1993.
(GWS NN, Nos. 130, 132, 191, 215, 216)
Policeman's Hut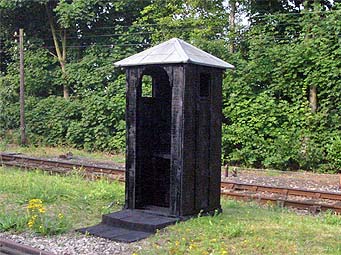 R J Heron 8-Aug-2003
Replica Broad-Gauge era structure
Telegraph Pole Route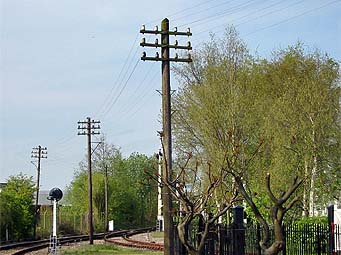 The 'Modern' style pole route
R J Heron 21-Apr-2002
The pole route between Radstock and Frome boxes has sections of two different types of pole, those at the Radstock end being the conventional 'modern' type, whilst that at the Frome end is of the broad-gauge era having alternating short and long arms. The display is based upon a set of poles ex Severn Beach and were recovered on 19th July 1981. The route is largely cosmetic as the signalling functions are carried out by a buried multicore cable, but a couple of telegraph circuits are carried over the pole route for old time's sake.
(BGN, December 1981; GWS NN, Nos. 193, 195)
ATC Ramp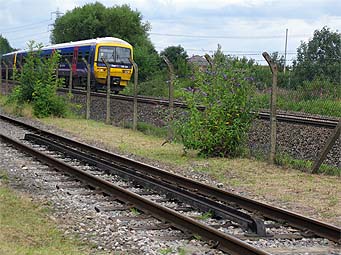 The ATC Ramp on the main demonstration line
R J Heron 23-Jul-2011
A Great Western Railway Automatic Train Control (ATC) ramp has been installed on the main demonstration line between the two fixed distant signals.
This is part of a system introduced by the GWR in 1913 having been developed from an 'audible signal' system, using the same ramps, which was first tested in 1906. The complete system comprised equipment on the ground at every distant signal and apparatus on each locomotive.
The locomotive equipment consists of an air inlet valve into the train brake vacuum pipe, normally held shut by electro-magnets with current supplied by a battery. The circuit passes through a switch fixed to a metal 'shoe' which projects downwards to within 2 inches above rail level.
When the locomotive passes over the ramp (which is set at 3 inches above rail level) the shoe lifts, breaking the electrical circuit so that the air inlet valve opens and applies the train brakes. The inrush of air into the vacuum pipe additionally causes a siren to wail as a warning to the driver.
For an operating distant signal, the ramp would also be connected to a battery with the current switched through electrical contacts on the signal so that when the signal was at 'Clear' the current was on, and when the signal was at 'Caution' the current was off. When the signal was clear the shoe on the locomotive picked up the current in the ramp, thus maintaining the current to the electro-magnets and holding the air inlet valve closed. The current also sounded a bell in the cab to indicate 'all's well'. With the signal at caution and no current in the ramp, the circuit was broken, the electro-magnets dropped away applying the train brakes and sounding the warning siren.
The last ATC ramps were finally removed in 1974 being replaced by the non-contact system using magnetic induction known as AWS.
Bibliography
Evans, Kevin. 1978. Bodmin Tank.
Great Western Echo — No.62. Summer 1978 pp.6-8
Published by the Great Western Society Limited, Didcot, Oxfordshire.
Price, Alan. The Level Crossing.
Great Western Echo — No.89. Spring 1985. pp.6-7
Published by the Great Western Society Limited, Didcot, Oxfordshire
Phillips, Derek. 2001. Steaming Through the Cheddar Valley.
Oxford Publishing Company. Ian Allan: Hersham, Surrey. ISBN 0 86093 551 5
Information about Winscombe and four Photographs of the Parcels Store. Pages 168-170
Photograph of Bruton Box showing part of lamp hut. Page 139
Vaughan, Adrian. 1977. A Pictorial Record of Great Western Architecture.
Oxford Publishing Company: Poole. Dorset. ISBN 0 902888 22 6
Drawing of Standard Load Gauge. Page 375
Drawing of GWR Standard Galvanized Iron Lock Up Huts. Page 422
Drawing and Photographs of Standard GWR Lamp Huts. Page 421
In addition, various copies of the Great Western Echo (GW Echo), Great Western Society National Newsletter (GWS NN) and Great Western Society (Bristol Group) News (BGN), all published by the Great Western Society, have been consulted.