Introduction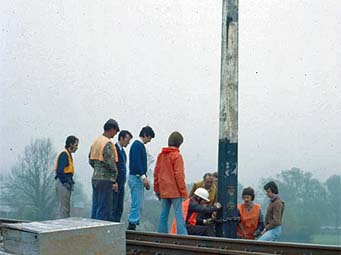 A R Hook - 3-Jun-1979
The signals at Didcot have been chosen to be photogenic and easily seen, yet not so large as to be aesthetically unacceptable on a small site. Generally those signals in the vicinity of Radstock Box are typical of what might have been seen in the 1930s whilst those in the vicinity of Frome Cabin are of late 19th century appearance.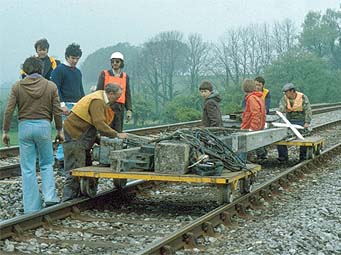 The Down Distant Signal being recovered from Upton Lovell
A R Hook 3-Jun-1979
The signals are not exact copies of prototype signals, nor are they simply signals moved in their entirety from their original locations and placed decoratively around the site. Rather they reflect a policy of creating a signalling system consistent with GWR practice. They have been chosen using a rigid guideline - Is this how the GWR would have done the job ?
In constructing these signals much original material has been recovered from various GWR locations and these have often been reworked in different combinations to construct the desired signal configurations.
Inevitably as time goes on, new material is used as original is getting harder to obtain, particularly in the case of signals of the 1870s period !
Where the original location of equipment is known details are given below though much has been acquired third or fourth hand or bought as railwayana in which case the original location is often lost.
Details of the Individual Signals
Radstock
2




A J Price - Jun-2022

The arm is a standard wooden 3ft arm with a white ring indicating it applies to a goods line or loop. The concrete post is of the type made at Taunton Concrete Works from about 1917 as a cheap replacement for scarce timber. This example is rather unusual in that it does not have the oval holes which were normally put in to reduce weight and provide a handling point. The post is drilled at standard positions to take a range of fittings. The finial, as on all such posts, has only two sides to the base, as concrete could not be trimmed to provide a snug fitting as was the custom with timber (Erected November 1979).

Origins: Concrete Post from Filton Junction: ex signal No. 50 — backing S.Wales Platform to Goods Yard (Recovered 24th Sept 1978)

(GW Echo No. 89; BGN, Nov 78, Dec 79)

Radstock
3/5




R J Heron - 24-Jan-23

This is a normally proportioned bracket for a left hand turnout. The 2ft siding arm has a spectacle plate weighted with lead to ensure its return to the normal position. The main arm is of a ribbed metal type dating from the 1927-1945 period. Metal arms were originally used with the same spectacle plates as used on the wooden arms, but this arm is of the later type with the spectacle plate specially designed for metal arms (Erected - in present form - September 1982).

Origins:

Main Post, Bracket and Doll - Congresbury
2ft Arm - Gara Bridge
Main Arm - Newbury Area

(GW Echo No. 89; GWS NN, Nos. 111, 120, 135, 158; BGN, March 1980, August 1980, July 1982, November 1982)

In original location at Congresbury. 1963 - Amyas Crump
Click on the picture for a larger image

Radstock
4
Frome
15/16/17




R J Heron - 22-Aug-2010

Short right handed bracket using the only known remaining example of a converter bracket casting. There are a wooden main arm and a wooden shunt arm on the main post, and a wooden 3ft centre balance arm for the deviating route. Originally junctions were signalled by two arms fixed to the same post, the top one controlling the left-hand route and the lower one controlling the right-hand route. About 1875 the design was required to be changed to a bracket type signal. As an interim measure many junction signals were converted with a specially designed cast-iron bracket (Erected 30th March 1986).

Origins:

Post and Fittings - South Devon
Converter Bracket - Maidenhead area
Centre Balance Arm - South Devon

(GW Echo No. 89; GWS NN, Nos. 155,156,161)

Radstock
8




R J Heron - 13-Apr-21

A disc signal of the 1918 period. It has a 16in diameter, ribbed vitreous enamel disc on a cast base some 3ft high. The actuating arm has a rod connected to it which locates in a hole in the blade connected to the blade of the trap point. This provides a simple method of detecting that the blade has moved exactly as it should. If there is the slightest gap the signal will not clear (Installed Summer 1980).

(GW Echo No.89; BGN, August 1980)

Radstock
16/17/19




RJ Heron - 08-Aug-2009

The main arm is a 4ft ribbed metal arm married to a wooden arm type spectacle plate. The doll carries a 3ft goods line signal (when controlling a movement from a main running line to a goods line the loop was omitted). On the main post is a 1ft 6in calling-on arm used to allow a train to enter a section that is already occupied. The lamp has an arrangement of mirrors so that the light is cast onto a large translucent screen bearing the letter 'C' (Erected April 1982 - Main post replaced with new timber early 1991).

Origins:

Main Post - Originally Radstock: Ex signal No. 20 - Down Home. (This post has subsequently been replaced with new timber)
Bracket and Doll - Totnes

(GW Echo No. 89; GWS NN, Nos. 130, 132, 296, 298, 299, 220; BGN, March, July 1982)

Radstock
20
Frome
4




A J Price - 31-Aug-2021

A standard wooden post with a normal wooden arm and spectacle plate casting. The signal is fitted with a sighting board, used to provide a white background for the arm where the background was dark or confusing. The signal is controlled by both Radstock and Frome signal boxes. This is called 'slotting'. Both signalmen have to pull their respective levers in order to operate the signal via the system of levers and large weights which can be seen at the bottom of the post (Erected Summer 1982).

Origins:

Main Post - Upton Lovell: ex Down Distant (recovered 3rd June 1979)
Sighting Board - Newbury area
Fittings - South Devon

(GW Echo No. 89)

Frome
1/2




2001

A double arm slotted post signal of the 1870s period carrying a Mackenzie and Holland finial. The signal demonstrates the early practice of mounting junction signals one above the other on the same post, the topmost arm applying to the left-hand route. Nowadays this arrangement is generally only found at the exit from sidings or similar lines. Slotted Post signals began to be replaced after the Abbots Ripton crash (on the GNR) in 1876, where the arms became jammed in the post by falling snow, giving a false clear indication (Erected Summer 1991).

Origins: Main Post - heavily modified remains of Radstock Down Home (made from the remains of R.16/17/19, when this was replaced with new timber).

(GWS NN, No. 203)

Frome
3

A small starting signal with a neat centre-balanced arm, typical of that provided by the Great Western where sighting was difficult or space restricted. In this case the height of the signal is dictated by the driver or guard having to view it from the far end of the transfer shed (Erected September 1985. Post replaced with new timber - March 2012).

Post - cut down from a signal post ex Wellington (Somerset)
Fittings - South Devon

(GW NN, Nos. 155, 156)

Frome
8




R J Heron - 20-Sep-2011

A replica broad gauge period Disc and Crossbar Signal. This was the first standard type of mechanical signal to be introduced onto the GWR. The assembly turns so that the driver sees the crossbar to indicate Stop and the disc to indicate Clear. The crossbar has tails to indicate that it is a down direction signal. The lamp, which turns to show red or white aspects, can be lowered to facilitate its lighting and refuelling.

(GW Echo No. 85; GWS NN, No. 214)

Frome Capstan Signal




R J Heron - 4-Aug-04

A replica broad-gauge period Capstan Signal of a type originally cast by R. Brotherhood of Chippenham. Originally the shoulder height lever on the right of the capstan would have been turned through 90° causing the point to change and the disc to rotate simultaneously. Later, once the point was operated from the signal box the arm was disconnected but the disc remained connected to the pointwork to provide an indication of the lie of the points. As shewn it is indicating that the points are set for the main route. (Installed Spring 1995).

(GWS NN, No. 229)

Frome
(Dependent Disc)




R J Heron - 13-Apr-21

This signal is operated by the same rodding which operates the scotches, hence its description as 'dependent'. In operation it turns through 90° to display a red aspect if the scotches are across the line or a green one when the line is clear.

Origins: Radstock

Stop Board




R J Heron - 1-Mar-2009

This signal is used to prevent unauthorised movements off the end of the branch demonstration line and onto the Steam Railmotor Shed siding. (Erected Spring 2009).

Origins: Lamp Housing - Didcot Yard

Ground Stop Board




R J Heron - 14-Mar-2010

This signal is used to prevent unauthorised movements in the opposite direction - from the Steam Railmotor Shed siding onto the branch demonstration line. (Installed March 2010).

Origins: Lamp Housing and Base - Theale

Fixed Distant




A R Hook - May-89

This signal represents a pre-1927 fixed distant having a red wooden arm with a white chevron. After this time the colour of distant arms was changed, following a Board of Trade requirement, to the now familiar yellow with a black chevron. As the signal is fixed there is no spectacle plate merely a lamp displaying a fixed red aspect (Erected Spring 1987).

Origins: Post - Mells Road: ex Down Distant (Recovered 23/3/86)

(GWS NN, Nos. 160, 166)

Fixed Distant




R J Heron - Aug-02

A tubular steel fixed distant - Tubular steel posts were first used by the GWR in- 1925/6. The steel arm is a yellow steel distant arm. Note that the finial is also painted yellow (Erected August 1997).

Origins: Post and fittings - Cardiff Docks

Ground Disc used as point indicator




R J Heron - 13-Apr-21

This is a small 1930s pattern ground disc signal with a 12" enamel disc which is operated directly by the movement of the point itself to give an indication to drivers. It is fitted with a GWR square oil lamp case (Installed May 1991).

(GWS NN, No. 221)
Bibliography
Hartland, David. 1984. The Disc and Crossbar Signal . Great Western Echo — No.85. Spring 1984 pp.10-11. Published by the Great Western Society Limited, Didcot, Oxfordshire.
Price, Alan. 1985. The Didcot Signals. Great Western Echo. No. 89, Spring 1985. pp. 7-12. Published by the Great Western Society Limited, Didcot, Oxfordshire.
Vaughan, Adrian. 1984. A Pictorial Record of Great Western Signalling (Revised). Oxford Publishing Co. Poole, Dorset. ISBN 0 86093 346 6
In addition, various copies of the Great Western Echo (GW Echo), Great Western Society National Newsletter (GWS NN) and Great Western Society (Bristol Group) News (BGN), all published by the Great Western Society, have been consulted.